Hi,
I just moved and copied some files from an external HDD to a Windows 8 storage space. The single tasks where queued in the progress window.
After a while the progress reporting did show wrong information:
[ul][li] It showed file names from tasks later in the queue.[/li]
[li] The overall progress was for example 4/4 with 100% done but it continued copying files with undefined progress.[/li]
[li] It stopped moving / copying in the middle of single files although the progress bar indicates that moving / copying was not finished.[/li]
[li] Window title shows blank line[/li]
[li] It copied files "after their size", meaning it showed that it copied for example 4 GB of 2 GB (also see screenshot below)[/li][/ul]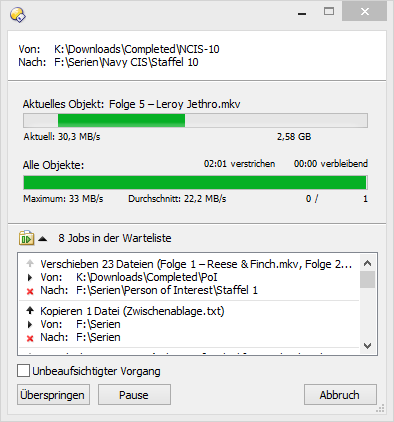 I think however, that this is only a bug in the progress report because as far as I see the files are moved / copied correctly and only files from the task that should be the current one are copied (although it shows me the progress of a task later in the queue).
I just cancelled the whole operation and the progress window disappeared, but the operation itself was not cancelled. I can see files being copied and moved and the HDDs are working, but DOpus is not showing anything.
I experienced the bug first after the final update to 10.5.0.0. I used the beta versions before where I didn't notice this behavior.