Hello,
I am defeated. Windows 10 x64 Version 1809.17763.316, Opus version 12.11 x64 (tried 12.12 x64 and Beta, same condition).
Here is my story:
New fast computer, install Opus. Go to a directory in Opus right click on a program file -> send to -> desktop as shortcut, no UAC prompt but error: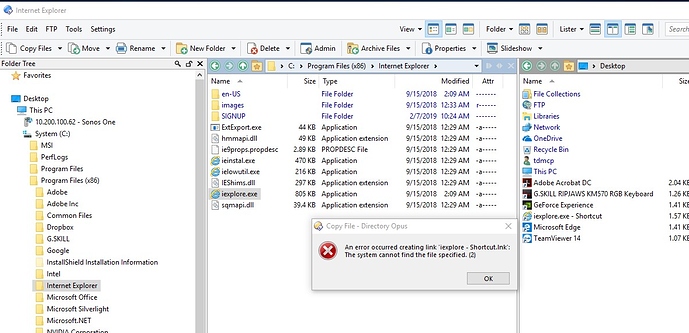 brand new disk, it is not full.
So I create a shortcut in the programs directory and try to copy it to the desktop, no UAC but error: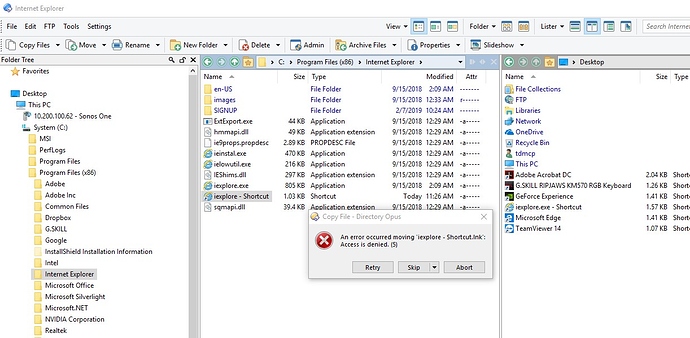 Even though the shortcut is copied to the desktop! And the shortcut works.
If I try to right-click drag the exe to create a shortcut on the desktop: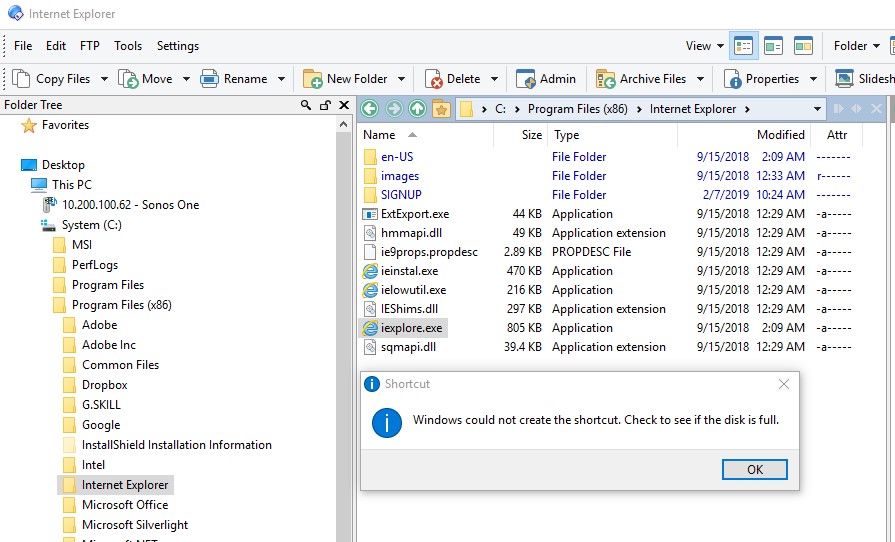 So I have tried re-install, rebooting numerous times, recreate the Windows profile, check all the security in the folders. File Explorer can create the shortcuts just fine.
I am not sure why Opus is not asking for UAC when trying to send to the desktop as a shortcut. Tried elevating Opus to admin, no luck. Tried turning UAC off, rebooting, no luck.
So I am hoping someone can come up with a miracle. I have already spent over three hours on trying to get this to work.
I have been an IT professional for over 20 years and have used Opus since version 8 and have never seen this issue.
I have even tried to copy over a working Opus from my old computer but run into the same issue. Tried creating a button to -> Copy MAKELINK TO=/desktop, same error, disk is full.
Please help me see what I am doing wrong. Too many settings in the registry for me see if that is what it is so I am hoping for a miracle.
Funny - when I go to delete the shortcut in the program folder I get the UAC prompt.
When I try to rename the shortcut on the desktop with Opus I get the UAC prompt then Access is denied. File Explorer renamed it fine.
Thanks,
NETGURU - Terry D. McPeck