This button
Set UTILITY=filelog 
@set mySource /mypictures
@set myDest /mypictures\Nexus6P
CreateFolder {$myDest}
GO {$mySource} DUALPATH {$myDest}

works as intended, unless the 'Computer' node in the lister tree is selected. Then I get a VFS error message: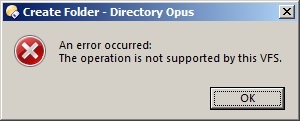 If I uncomment the first line and select 'Computer' the button gets greyed out.
Not sure how to understand this. Neither the lister tree nor the utility panel should affect the CreateFolder command, or should they?