Hi,
In DOpus 10.0.3.0.4392 x64, if I start with "C:" selected in the Folder Tree window and type Ctrl+F, the Utility Panel for Find opens at the bottom of the screen as expected -- but the path listed there is "C:$Recycle.Bin".
Also if I first click on any given folder, then click on the root of C: again, and THEN press Ctrl+F, the default Find folder will show that given directory instead of C:. If I press Ctrl+F a second time, the starting folder shown in the Find Utility Panel changes to the correct directory.
Furthermore, sometimes when I select any given folder (which has subfolders of its own), and then press Ctrl+F to start a Find, the starting Find folder will show the first child folder of the currently-selected folder. It should start at the selected folder rather than (sometimes) that folder's first child folder.
Here is a screen shot where I only started up DOpus and then pressed Ctrl+F. As you can see, "C: (CDrive)" is highlighted in the Folder Tree window (that's from my default Lister), but the "Find in" location is showing "C:$Recycle.Bin". It should start the search at C:\ rather than C:$Recycle.Bin. (I added the highlighting.)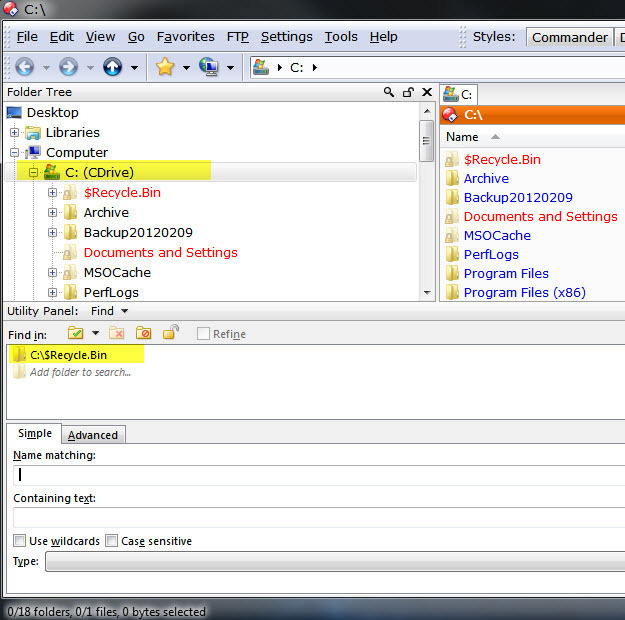 Is this a new feature, that by default the Find starts either one level deeper than what's currently selected in the Folder Tree window or in the last directory shown, rather than the one currently highlighted?
This just started happening recently, and the only config changes I've made are in the Toolbars shown at the top of the screen. I didn't see any config options about this behavior.
Thanks much!