Hello again,
cofiguring my reseted DOpus I need help please on this:
In my workflow I need most and from the first moment I start my work three listers shown like this: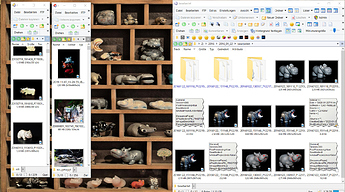 I want this to remember always for new start of DOpus on startup or doubleclick on desktop as a stored set.
The layout of each lister is stored and works well, but for now its the need for DOpus minimal to remember the last open listers. I am confused about, that there is opened always an old standard lister.
BTW the big lister right named "bearbeitet" is docked to desktop right border... This might be the reason why Dopus cannot remember.
Ist simply annoying to built this needed set again and again...
As info:
"nili" is my todo-list, "nili_getaggt" is the done-list, "bearbeitet" always my source to work on.
Also on mouseover on right border will be shown a big pendig DOus-toolbar with buttons containing several sets with Exiftool-commandlines to set IPTC-keywords, artist, or copy blocks of meta or whatever I needed in the past, grown with my work on my pictures from over 50 years with analog and digital cameras and scans. Very special to me.
The content of "nili_getaggt" is shown on Instagram, Facebook and http://www.ipernity.com/home/klemmleuchte for example.