It strikes me that external USB drives, within Libraries, repeatedly disappear. They are available in Explorer library, but within Opus they are gone.
Am aware that I already brought up this issue in an earlier thread:
Libraries-External USB Drives-not showing up-even though properties are showing them - Help & Support - Directory Opus Resource Centre
(@Leo - Hesitated as to whether or not to revive that thread, but having some new information (screenshots) I believe I should create a new thread. Feel free to migrate this one into other, if you think it is better)
Anyway, things went fine for some time, but regretfully the issue returned since -say- last week or so.
Screenshot shows USB drives are showing up within Windows Explorer, but not in Opus.
When checking out 'Properties' (Opus) the drives are displayed.
I might click "Add" but then Windows Explorer is launched showing the drives within Libraries, i.e. there is nothing to add.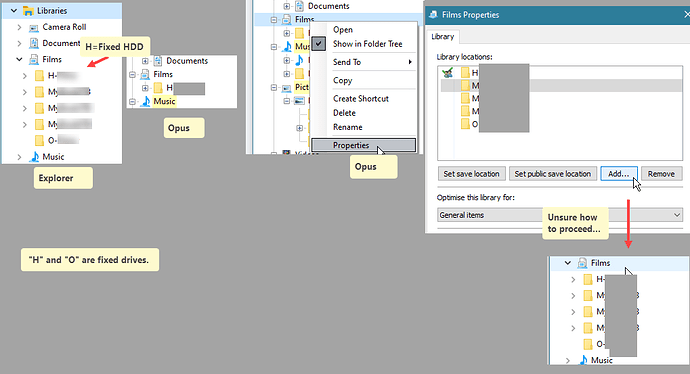 Not sure how to proceed.
Any suggestions?
Thanks.