I often use the filter bar to select files with specific file extension, or all of a file type - like Images or Movies.
My request is that if I check the box 'Images', that all Image file types (as I have defined by editing file type groups) be checked also.
So, if I checked 'Images' in the screenshot below, I would want all the image file extensions (.bmp, .jpeg. .jpg, .png, and .tiff in this example) to be checked automatically. And I thinks it's logical!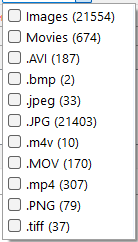 I work with some many different Image file extensions, and camera manufacturers keep adding more! So, If I were to check the 'Images' box and the boxes next to images file extension were checked, it would be very helpful for helping me verify what is or is not included.