Directory Opus appears to enter a tight loop when seeking to delete a large number of duplicate files. Directory Opus appears to hang, but is in fact very busy using the processor.
There are a lot of duplicate files on this device, the result of the peculiar behaviour of a file synchronisation service.
There are 547,528 files, occupying 509 GB, which have been identified as duplicates using MD5 checksum. I have successfully carried out the find step, which took a few hours, and the select step. I move on to the delete step.
This starts okay, and runs through to 100%.
This is followed by a warning that deleting files in the collection will delete the real files.
I click OK, and then receive a message box telling me that 421,336 files (totalling 404 GB) will be sent to the recycle bin. I click on delete.
I click delete.
Directory Opus then displays: preparing to delete to waste bin.
Then I get the message displayed in the image attachment.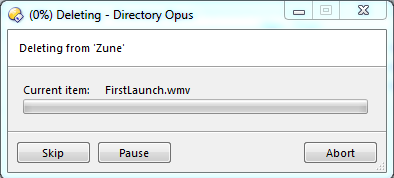 This message does not change even if left for an hour or so. But although the screen does not change, Directory Opus is very busy. Windows task manager shows DOpus.exe taking 65 to 90% of the processor.
I have already done what I can to tidy up the external disc. Nor am I entirely sure how I can further subset the data so as to reduce the number of files that have to be examined.
Is this a known problem? Is there anything I can do to help to resolve it?