That looks like flat view to me. There are paths folders there from multiple locations below the starting path.
What do you mean by "doesn't work"? Please be specific and explain in words so we know what we're supposed to look for on your screenshot.
U know how fv looks? All the folders have files inside it and it shows as above when enabled
There are two modes: Flat View (Mixed) with Flat View (Grouped). Maybe you're in Mixed and expecting Grouped.
That's not mixed,the shot is of fv toggle enabled
Flat View isn't just on or off; it has multiple modes, as I said.
With the default toolbars, you can right-click the Flat View button to see the various modes: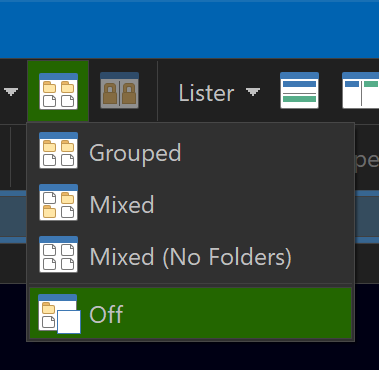 They are also in the default Folder menu:
Your screenshot clearly shows that you are in Flat View (Mixed) mode, since the Location column shows you have folders from multiple locations. Flat View is on, and in the Mixed mode.
If you want to be in the Grouped mode instead, select that instead.