I have Show relative graphs behind… options in Preferences / Folders / Folder Display checked for both modified date columns and size columns. That work great, it allows me to spare screen space by displaying like this: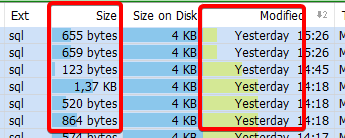 However, when I toggle Flat view, this having-it-nice-and-tidy simply flies out of the window. Flat view, while keeping those overlays still working, also expands those into separate columns and the lister becomes unnecessarily wide:

Is there a way to tell Flat view not to do that?