Up front: maybe this is something that isn't possible at all, I don't know.
I've tried Opus d8viewer.exe, XnViewMP, Faststone Viewer... no luck.
Scenario as follows:
Selecting a folder with images
Select Images tab (Style)
Sort on Modified date
Double click any image. It will show up in the associated program.
Within that program, click on [Forward]
With me, some other image will be displayed, but not the one that is displayed on screen (in the Opus right panel) as being the next.
For example: an 2018 image is displayed, the next -would- have been another 2018 image, but after 'forward' a random 2020 image is displayed, skipping the images in between.
From that point on (2020), the viewer follows the date time sequence properly.
That is with XnVIew and FastStone. D8Viewer also skips to some other image.
See attachment.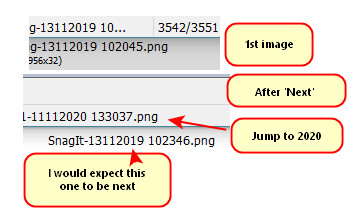 As said, maybe there isn't a solution.