Recently started getting the following error "An error occurred moving Incorrect function. (1)"
It only happens with when moving files to and from SMB 3.0 shares. Windows file move (command line or cut and paste in explorer) work fine. Machine with DOpus and file shares are in the same windows domain.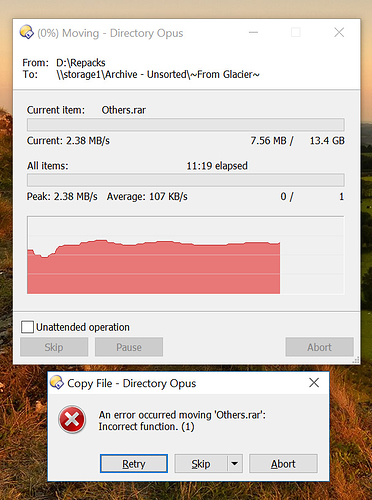 The only event in the client log does not seem to be related, but here it is:
The start type of the Background Intelligent Transfer Service service was changed from auto start to demand start.
Nothing useful in server logs, but verbose event logging is not enabled.
Client: 12.6 x64 under Windows 10 Enterprise 1709
Server: Win server 2016 DFS and Synology DSM 6.1 (All on the same domain)
QUESTION
How is Directory Opus file move different from Windows file move?
Please point me in the right direction so I know where to look.