In several places I've noticed a factory description in the user description column.
I'm the user and I didn't write these descriptions: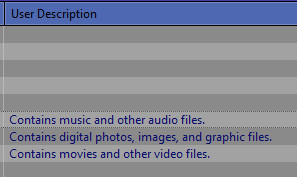 This particular example is in C:\Users\Public.
The metadata pane won't let me erase these descriptions. Apply won't apply.
I assume windows just locks out editing these folders, unfortunately. I don't want to look at those captain obvious descriptions.
The prev/next file arrows should be up and down arrows, not left and right arrows. As that is the direction of travel in lists. Same with the viewer pane arrows.


I wish the viewer and metadata panes could be a little thicker, and their buttons a little bigger.
The viewer pane greys out its functions when there isn't something to modify.
Ok but they look really bad. I can't find an 'unselected' or 'off' colour option for those anywhere.


Still building my config:
I got colours on my file types, with cute little icons. One click to line up all my file types in a row.

And building an extremely sweet app tool launcher.


happy happy