Since the last upgrade (12.26), on the first launch, I have a strange windows name.
Instead of having "pathname" I have "(openlister) pathname". an example below: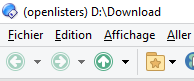 same probleme with the taskbar.
But If I close the first windows and open a new one, the name is fine.
Not a serious bug, but a strange one.