I have started to create a Opus9 compatible Icon Set for my 60 AEicons, these were and are meant as additions to the existing Opus8Icons.dis Icon Set by Trevor Morris.
In the process of trying to make sure that none of the internal icon names are used twice I noticed that even though Opus8Icons.dis contains 226 icons in fact only 225 icons are shown in Opus9.
Problem: There are two icons named removecollection, and the first one is shown, the latter one is ignored.
<icon name="removecollection" row="6" col="15" /> vs. <icon name="removecollection" row="6" col="24" />
To illustrate the naming problem, and to maybe help add some more consistency, see the following image: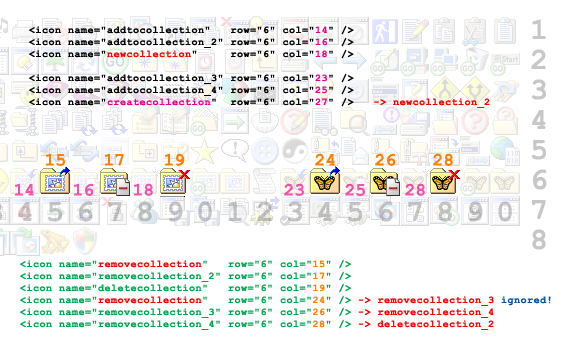 Suggestion: Update the Opus8Icons.dis\Opus8Icons.xml file, as the image suggest several lines would need to be renamed for consistency.
<icon name="removecollection" row="6" col="24" /> -> removecollection_3 <icon name="removecollection_3" row="6" col="26" /> -> removecollection_4 <icon name="removecollection_4" row="6" col="28" /> -> deletecollection_2
On a more trivial note. The following rename would also be more consistent, but can just as well be ignored:
<icon name="createcollection"  row="6" col="27" />  -> newcollection_2
What does everyone think?
I bring up this topic because the missing icon "bug" could lead to problems for the folks creating new icon sets. And this is a problem Christiaan will probably need to look into for his great icon sets as well.
BTW: I use unique icon names for the upcoming the AEicon Set for Opus 9, so I also have some interest in consistent icon naming

.
Hope we can agree on getting this into the next official Opus update.