I am running Dopus on both Win 10 and Win 11 machines. No Dopus problems on the Win 10 machines. The new desktop came pre-installed with Win 11, the laptop was an upgrade to Win 11.
On both the Win 11 machines the Print Export Folder Listing produces this error message. This one is from the desktop but I receive a similar message on the laptop but do not have access to it at the moment to grab a screenshot of its specific message.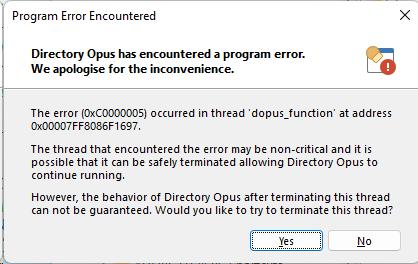 I did follow the suggested action on both machines, and it does successfully terminate the thread but it after restarting Dopus the same error message appears for this function.
I hope there is a fix for this feature