I have noticed that there is a slight delay between pressing F2 (rename) and the file name becoming editable. I often press F2 then HOME to add some text at the start of the file name.
If I do this too quickly, the HOME key press changes the file selection to the first file in the directory.
Here is what should happen (renaming file3.txt):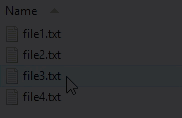 Here is what actually happens (pressing F2 on file3.txt then HOME immediately afterwards ends up renaming file1.txt):
This works fine on Windows Explorer and XYplorer, so I do not understand why there is a delay between pressing F2 and renaming the file. With my workflow above, it ends up renaming the wrong file.
How can I have the HOME key press apply to the file being renamed?