The problem occurs on all 3 computers that I use to DO on.
In Preferences / Launching DO I have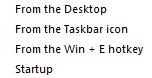 Each option except Win+E (as I do not have DO as explorer replacement) is set to load the same specific profile.
And it works just fine. Where it breaks down is, if I close the current lister window, but not close it from the taskbar. If I then click on DO from the start menu, it loads some weird layout using a completely different style.
It will work perfectly when:
Opening DO for the first time
double clicking any empty space on the desktop to open DO
double clicking DO from the taskbar
I am not sure where the setting, or what I need to do, that if I click on the program icon, either from the desktop or the start menu while DO is still running in the taskbar that it will load a specific layout and not some old layout from only knows where and when and how I had saved.