For some reason running a copy filter from a local folder to an FTP server seems to cause the filter to also run against the files on the web server. I don't understand why, since surely the filter only needs to identify the correct local files and upload them? This is the screen I get: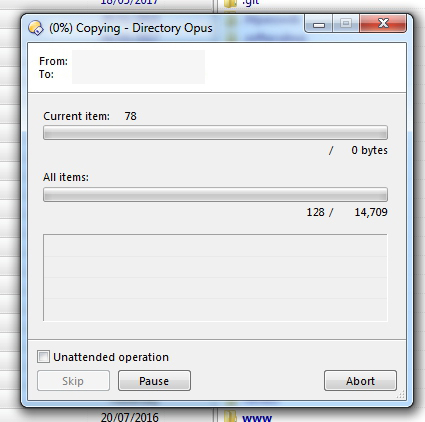 It seems to try and loop through all 14 thousand file nodes on the server which as you can guess takes a stupidly long time. I'm not sure why it has to do this. Copying the same files through the same filter between local folders takes a couple of seconds, while I expect this will take 5 minutes.
If there isn't a direct solution to this, then I wonder if it is possible to write a script instead that would copy files from a Find Results tab (after the filter has been run on the local files) to the appropriate locations on the server? In essence I would need to do something like (psuedo code!):
foreach file in Find Results (
var oldpath = file.location
var newpath = oldpath - [first x segments]
copy file from path to newpath relative to FTP root directory
)
Is this possible?