Copy indicators in beta version 12.17.1 are missing. I re-installed the stable version 12.17 and everything went back to normal.
There are some changes in the beta which could affect the progress dialogs. But they seem OK here from a quick test with default settings.
What are your settings under Preferences / File Operations / Progress Indicators? Please post a screenshot of that page.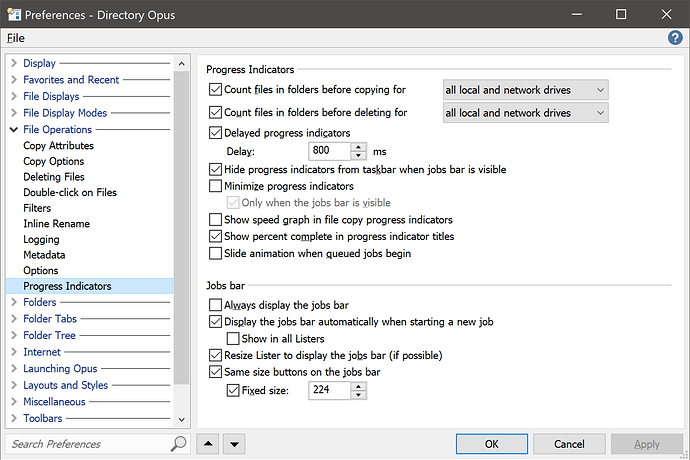 It may also depend on other Opus dialogs being open at the same time, or maybe multiple progress dialogs at once, or similar. Is there anything like that when it happens?
Please let us know and we'll try to reproduce the problem.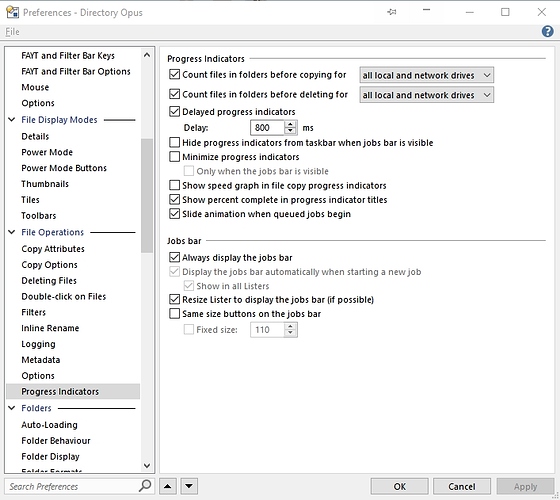 This image shows my settings. And to be absolutely sure, I double checked right before I post this reply.
With these settings I reinstalled 12.17.1 and copied the contents of a rar file to a folder: no indicators
I installed 12.17 back and copied the context of the same rar file to a folder: indicators up and running
PS No other dialogs during the described process, just copying the contents of the rar file
I think we have reproduced this now, and we should have a fix for it in the second beta.
Many thanks for reporting it!
This should be fixed now in 12.17.2.
Yes! It's now fixed.
Thanks!