I've been using the set here

as my main toolbar icons.
I wanted to tweak the 'foldertree' icon a bit and add a couple of column icons. I wouldn't say that this is a "stand alone set." It's more of an add-on for Cris' already existing 10XP set.
Screenshot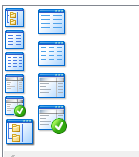 Hopefully Cris doesn't object -- They say that imitation is the sincerest form of flattery.

basedOn10XP.dis (6.2 KB)