When I compile a LaTeX source file, besides the pdf file I also get a bunch of auxiliary files, including *.aux, *.toc, *.log.
If I only had one folder containing my LaTeX project, I would use the hidden filter to hide these auxiliary files, as I have done in the figure.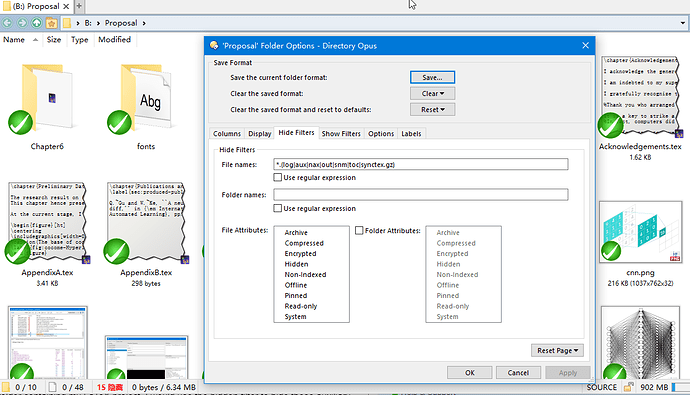 The problem is that I have a bunch of LaTeX project folders and will create more. Besides copying the same filter string, is there any way to apply the same hidden filter to every LaTeX project folders ?
I'm contemplating if there is a "named filter" that I could say "latexFolder=*.(log|aux|nax|out|snm|toc|synctex.gz)", and use latexFolder instead of *.(log|aux|nax|out|snm|toc|synctex.gz)
Or can I create a label latexFolder, and whenever a folder has the label latexFolder, some filters will be automatically applied?
Another idea is that as I put these files in git and my gitignore ignores these unwanted files, can I wrote a DO script that reads .gitignore and hides these files?