Hi,
I've been looking into File Managers recently both for personal use and to potentially implement at my workplace for the development team. I'm mostly very happy with Directory Opus, but I feel like there's a common use case that could be missing?
Most File Managers I've come across so far have a "Favorites" or "Bookmarks" feature that lets you quickly add and remove files (instead of just folders), and allow quick access those files from a sidebar or toolbar.
This screenshot is an example in FreeCommander;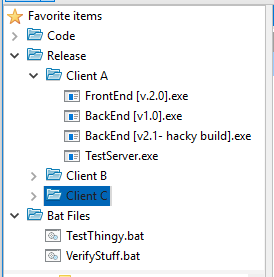 For our development work this would be extremely useful since we often have a large amount of files and executables to keep track of that we need rapid access to, with some of those being very temporary. And for general use it's just a nice way to organize shortcuts without needing a dedicated file view.
I haven't found a way to effectively replicate something like this in Directory Opus? But I could be missing something.
The closest solution I've found so far would be to use a File Collection like a temporary workspace. But this still means dedicating a file/folder view to that collection, and any sub-collections used would require yet another file view, rather than having everything nicely organised and accessible within a tree view. There's also some nuance with how the collections work, which I worry would cause some confusion and mistakes in the workplace (eg deleting files when you intended to just remove them).
Thanks,