Greetings
Forum etiquette
This post is a continuation of this older post:
clickData.func.command.results with multiple commands
Should I be starting a new post or reply to that one?
The old post has been answered and I have marked it as solved.
This new post is a different question.
I know that it is not encouraged to reply to old posts and the one above is over 2 months old.
Please correct/guide me as necessary. Thanks now on with the show!
What can I expect from the .results property?
I need to execute internal commands from a script individually and then evaluate the outcome before proceeding.
I write up a test script first and shock horror it does not do what I wanted/expected.
It would seem that I cannot tell from CmdResult = command.run() if there was a match and consequent renaming of one or more selected files.
I run the script with 2 regex expressions one that I know matches and changes the filename and one that I know does not match and the filename does not change.
But I get the same result of digit 1 returned from cmd.run().
My questions then are
Q1 What does .results give?
Q2 If I want such a detail (has a file rename command done anything) am I obliged to run my script from inside the OnGetNewName environment within the rename dialog?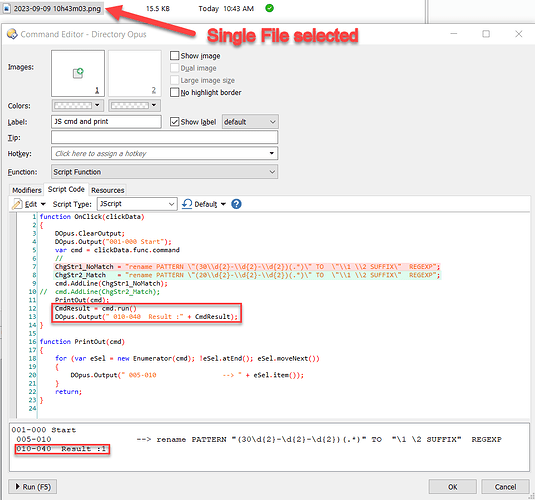 Any replies much appreciated as always