DIRECTORY OPUS 8 AEicon SET v1.0 for Opus 9
by Christoph 'AEon' Loewe (c) 2008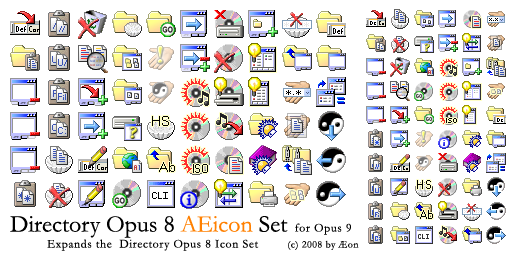 Description:
This collection of icons was initially intended for Directory Opus 8, and has now been converted into a Directory Opus 9 compatible Icon Set.
The AEicon set was derived from Trevor Morris' original Directory Opus 8 Icon Set, and is intended to supplement those icons.
The 60 icons exist in large (30x30 pixel) and in small (20x20 pixel), have unique icon names, and also niced up display names (see Tooltips in Select Icon dialog). Furthermore the icons have been sorted into categories (using existing ones plus "Tabs", "Folders", and "Nero").
Zip contents:
Opus8AEicons.dis: 60 large and 60 small Toolbar Icons for Opus 9

Opus8AEicon.png: Preview image

Opus8AEicon_v1.zip (174 KB)
Install: (info borrowed from kenalcock)
Download the attached

zip

file.
Unpack the zip file into e.g.


C:\Documents and Settings\All Users\Application Data\GPSoftware\Directory Opus\Icons

[/li]
In Opus, open

Settings Menu - Preferences

.
In Preferences, goto

Display - Toolbar Icons

.
Click on the

Import

button (disk with up arrow), or press

+

.
Browse to and select the

Opus8AEicons.dis

file, and click

Open

.
Move this icon set ahead of

Directory Opus 8 Icon Set

, so that the changed icons will take precedence automatically.



Note:

If you want to ensure that you are using Opus 8 icon sets, then ensure that

Directory Opus 8 AEicon Set

is first and

Directory Opus 8 Icon Set

is second (from the top) in the

Icon Sets

list.
Version history:
v1.0 (9/8/2008): 60 large & 60 small AEicons for Directory Opus 9.