Dolphin (with Mica).dlt (662.3 KB) (Version 1.1)
This theme is loosely inspired by the KDE Dolphin File Manager from Linux.
It also has some inspiration from the older Windows 7 File Explorer.
Please note that this may not be working perfectly everywhere. Feel free to suggest fixes.
Installation
Download the .dlt file above and open the Lister Themes in Directory Opus to import from file.
Install Mica For Everyone
Open it and click "Add Rule" -> "Add Process Rule"
Type exactly dopus as the Process name and click Add
Use the following settings: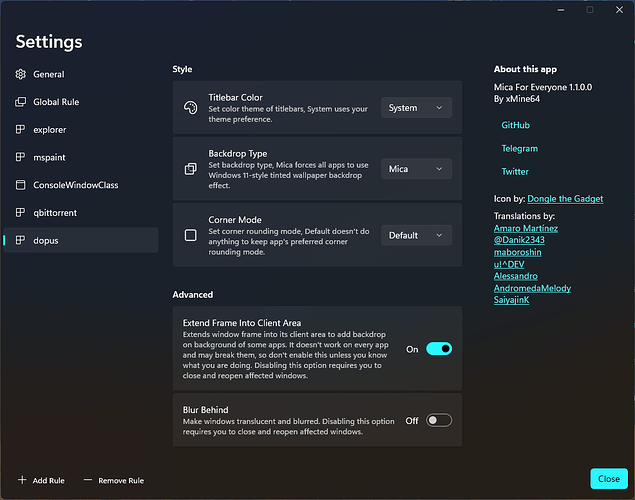 You must use Mica For Everyone for the Mica effect to work. Otherwise, it will be a Black OLED-looking theme.
Known Issues
If you find an issue please send in a screenshot and I will take a look.
Save Dialog does not apply the Mica Effect properly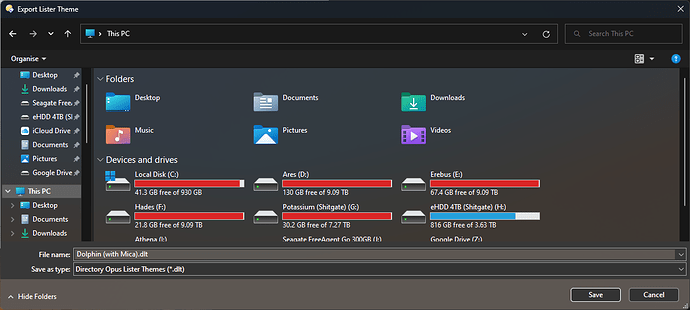 This is because Directory Opus is only able to apply some colors. Windows forces other colors on it overriding my Mica efforts.