Since I've asked for a few scripting related enhancements, I'll balance my Opus karma and make a request for the regular interface as well

.
In continuing to borrow ideas from web browsers, but also with Windows 10 coming to the fore - I wondered what people might think of using the Empty Tab (or hell, an all together different construct - say a Utility Tab) to host various widgety type things like how you say in various web browsers, where you have recently visited websites in Opera or Chrome.
But for Opus, I rather would like to see really large thumbnail style 256x or 512x iconified 'buttons' we could edit just like a standard toolbar button to do whatever we want. Maybe that's web URLs, maybe it other Opus tools that are nice to see in frame of the lister and file display while you're doing other work as integrated launcher.
Bringing an element of Win10 style app 'Tiles' into Opus...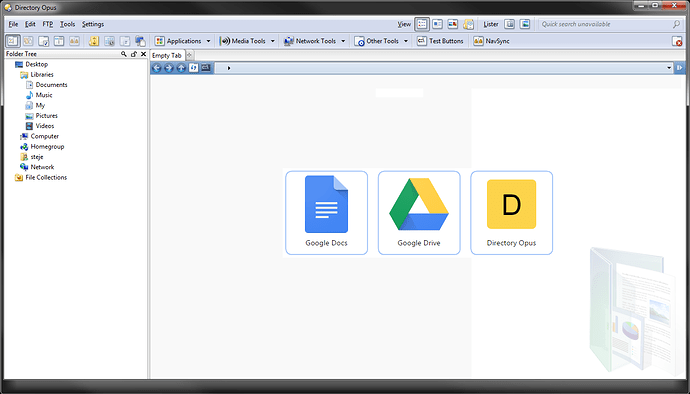 Don't know why I bothered with a mockup. Showing control panel in Thumbnails mode is just as good to get a visual across with the idea

...