In the latest 12.23.3 beta, there has been a bugfix addressing an issue I had mentioned in my longer feedback post:
This has been fixed in the mentioned UI areas (thank you!), however the File Display still has issues (though only related from a user's perspective I believe) which was part of my original bug report. It may just be that this hasn't yet been fixed, however I thought I'd supply a couple screenshots to help illustrate the problem in case it was overlooked or forgotten about. Like the bugfix, text cannot be read when the foreground and background colour are the same, but in this case, because the background colours aren't being blended with the background:
How it looks in Details view (also works in Details + Thumbnails, Power, and Tiles view):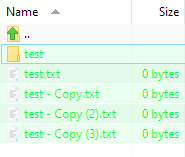 And this is how it looks in List and Large Icons view (as well as in Small Icons, and Thumbnails view):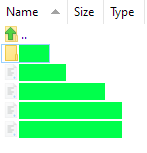 Thanks!
Edit: Fixed in v12.23.4 Beta.
- Directory Opus v12.23.3 Beta x64 Build 7752
- Windows 10 v20H2 OS Build 19042.870