Hello,
Is there any option to force the file/folder frame (the empty rectangle around a file/folder) to follow a file/folder selection, especially with a marquee selection?
In the image below, we can see that Test1 is still framed after a marquee selection of Test4-7 has been made.

The inconvenience it causes to me is that when I hit F2 to rename Test4-7, it renames Test1 instead.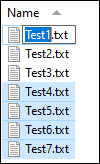 I'd rather prefer that the frame automatically goes on the top first highlighted file instead, like on the image below.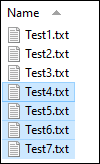 Otherwise, would there be an option/command that would allow to rename the highlighted file(s)/folder(s) instead of the framed one?
Out of curiosity, I've tried in the Windows 10 File Explorer and the frame doesn't follow the marquee selection either, but if I hit F2, it will allow me to rename the ones highlighted.
Thanks!