These scripts are tested but not guaranteed, they are still being tweaked.
If you would like to try them please test against temp folders first. Feedback is welcomed.
Description
These scrips perform some clean up tasks. Some of these have been written before by others as buttons. Using the new script support should mean that caching of selected files should mean less erroneous changes.
Functionality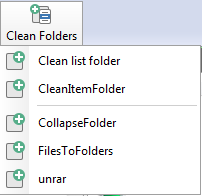 CleanListFolder
Makes some assumptions about what to do based on this being a list folder.
A list folder is a folder that contains other items but is not an item. E.G a Movies folder would be a list folder. A movie folder would be an item folder.
Runs FilesToFolders on all child files, excluding special files (see CleanListFolder_FilesToIgnore in config) like thumbs.db.
Runs CleanItemFolder on each child folder.
CleanItemFolder
Makes some assumptions about what to do based on this being an item folder.
Collapses certain files (see CleanItemFolder_FoldersToCollapse in config) like cd1 cd2.
Runs unrar on all rar files, removing the original file.
CollapseFolder
Move contents of folder to parent, optionally removing folder
c:\a\b.txt --> c:\b.txt
FilesToFolders
Move each file to a folder of the same name excluding extension
c:\a.txt --> c:\a\a.txt
unrar
Unrar given file, optionally remove files if unrar was successful. Requires unrar.exe
Clean Folders menu:
Clean Folder script add-in:
v1.0 (latest):
Clean Folder.js.txt (34.8 KB)
Download and drag the file to the list under Preferences / Toolbars / Scripts.
v0.2 (older):
Button to toggle debug output when the other buttons run (toggles the $glob:debug global variable):
set debug.dcf (546 Bytes)

@toggle:if $glob:debug

@ifset:$glob:debug
 @set $glob:debug
 Set UTILITY=Off
@ifset:else
 @set $glob:debug=true
 Set UTILITY=OtherLog,On