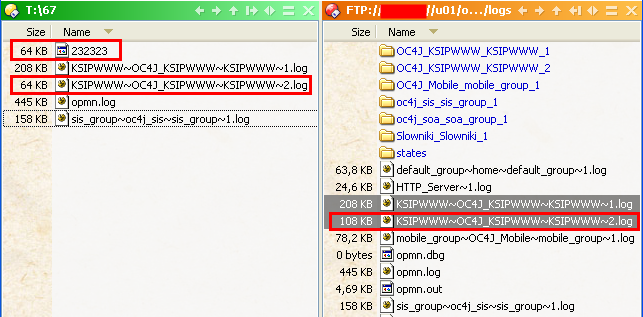 I cannot copy marked file. KSIPWWW~2.
On server side its a 108KB file .
When i trying to copy to my comp. i get only 64 KB.
I tried:
copy other files - as you see, they all copied without problems.
get this file via ftp from command-line in other server = OK
change filename to 232323 = still only 64 KB.
swich Active/Passive modes = without success.
I enabled DEBUG mode on FTP:
227 Entering Passive Mode (xxxxxxxx,134,209) 150 Opening BINARY mode data connection for KSIPWWW~OC4J_KSIPWWW~KSIPWWW~2.log (111548 bytes). 65536 bytes received in 0.93 seconds (687.512 Kbytes/sec) 226 Transfer complete. Opening Connection xxxxxxxxxx:21 220 xxxxxxxx FTP server (Revision 1.1 Version wuftpd-2.6.1(PHNE_36065) Mon Apr 14 06:16:29 GMT 2008) ready. 331 Password required for root. 230 User root logged in. 215 UNIX Type: L8 500 'FEAT': command not understood. 200 Type set to I. 257 "/root" is current directory. 250 CWD command successful. 257 "/u01/oracle/product/AS1013/opmn/logs" is current directory. 200 Type set to A. 200 PORT command successful. 150 Opening ASCII mode data connection for /usr/bin/ls. 1620 bytes received in 0.27 seconds (58.608 Kbytes/sec) 226 Transfer complete. 227 Entering Passive Mode (xxxxxxxxxxxx,79,36) 150 Opening BINARY mode data connection for KSIPWWW~OC4J_KSIPWWW~KSIPWWW~2.log (111548 bytes). 65536 bytes received in 0.110 seconds (581.56 Kbytes/sec) 226 Transfer complete. 200 PORT command successful. 150 Opening ASCII mode data connection for /usr/bin/ls. 1686 bytes received in 0.27 seconds (60.560 Kbytes/sec) 226 Transfer complete. 227 Entering Passive Mode (xxxxxxxxxxxxxx,237,92) 150 Opening BINARY mode data connection for 232323 (111548 bytes). 65536 bytes received in 0.109 seconds (586.936 Kbytes/sec) 226 Transfer complete. 227 Entering Passive Mode (xxxxxxxxxxxx,31,232) 150 Opening BINARY mode data connection for 232323 (111548 bytes). 65536 bytes received in 0.94 seconds (680.680 Kbytes/sec) 226 Transfer complete. Connection closed
What wrong is with this file?
Opus: 9.5.3.0.3728.x86