Hi Everyone!
Can someone please help me, I would like to group my drives that appear in This PC, with the collapsable bar like in this screenshot I found (although my layout is different):
Thing is, I can't figure it out, I like to try myself before asking anyone so I learn, but this has stumped me. Mine shows like this, without the dropdown bars, which is what I'm after. As you can see I've had to use labels to easily read the drives.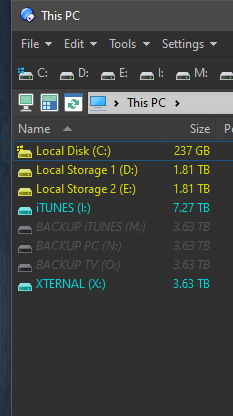 Also, can I create 'custom groups', so for example I can put my two backup drives (one USB and one internal) into a collapsable group?
Thank you for your help, i appreciate your time.