Hi.. o)
Is it intended, that when I open the image converter on a jpg-file from source lister and only change jpg quality (no resizing, no rotation), like so: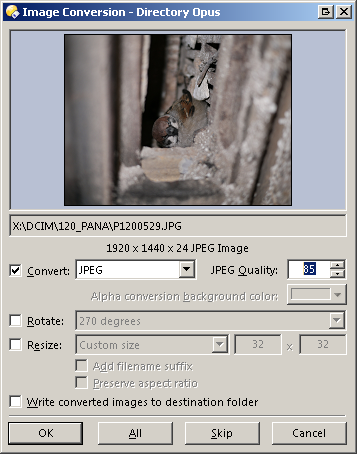 That it will not write an altered image back to the source lister? I need to enable resizing to get the converter write back the image.
If I tick "Write converted images to destination folder" and just change jpg quality (again no resize, no rotation) it creates an image with lower quality in destination, so why not in source as well?
Is there any specific reason behind that? This behaviour is the reason I use nconvert.exe to reduce jpg quality in place, but would rather rely on DO only.
Using internal commands it's the same - this does nothing
Image CONVERT=jpg QUALITY 80 REPLACE HERE
while
Image CONVERT=jpg QUALITY 80 REPLACE
does replace the image in destination
Thanks!