I am using Directory Opus 12 from past more than a year now.
When I backed up the configuration using Settings - Backup and Restore - Backup Configuration - All four boxes checked as shown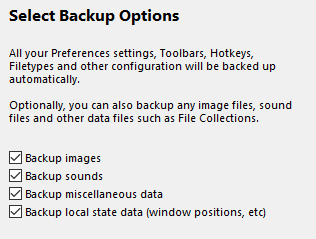 the size of the .ocb file on 24-Jul-2020 was 35.9 MB and the size when I used the backup today was 4.72 MB (used it twice over last two days and same size).
I am not sure if I am missing something or has the program changed to compress the .ocb file or something. I do not want to lose my configuration as I have done lots of changes over the months almost 9x difference in size has drawn my attention.