There are at least two Markdown preview handlers that we know of, and both work in Directory Opus.
---
Microsoft have released a Markdown (.md file) preview handler which works in both File Explorer and Directory Opus.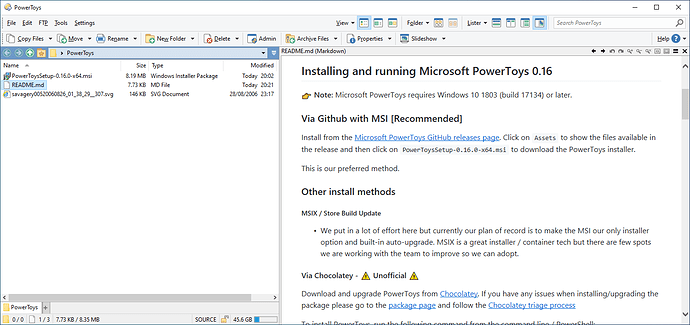 Markdown is a bit like a simplified version of HTML, and used a lot for things like ReadMe files on Github. (It's also supported by the forum here, although you'd be unlikely to save forum posts into .md files.)
This viewer is part of Microsoft's PowerToys for Windows 10, which you can download from https://github.com/microsoft/PowerToys/releases.
Once PowerToys is installed, the viewer is enabled by default and should just work.
One issue I noticed is that clicking the viewer itself will not bring the window to the front; you have to click elsewhere. This also affects the viewer in File Explorer.
As this is a third party viewer, if you find problems or want to request features, you should do so at https://github.com/microsoft/PowerToys/issues.
---
If you run into problems with Microsoft's Markdown preview handler, another option also exists:
That viewer also seems to work well in Directory Opus.