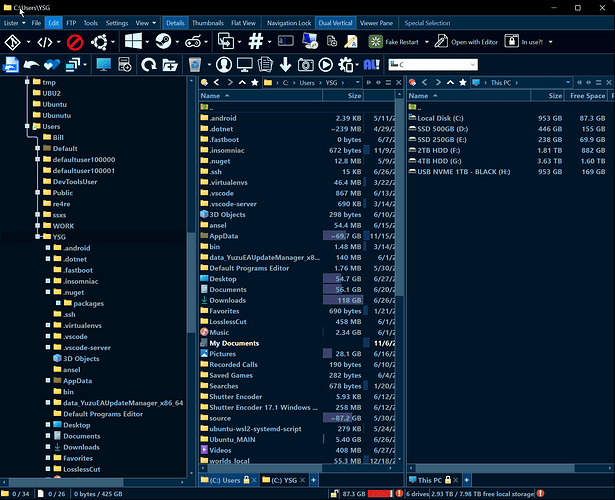 Since a few (namely @khalidhosain) have shown interest in my DOPUS setup, which I have been painstakingly cultivating and improving for about 4 years now, I figured it was time to fix it up (mainly by changing any user paths to %USERPROFILE% or /profile, and such), add a couple nice new buttons and finally share my life's work.
Standout features:
Leo's awesome Recycle bin button, but as a menu - the button itself simply displays recycle bin status and opens the bin, the button in the menu actually empties it. This minor tweak on Leo's original suggested button in response to a user has saved my ass from at least a dozen misclicks since then.
Appdata menu - You will use this constantly.
</ > button - this button opens whatever directory is in the most recently active lister in Ubuntu, Powershell and CMD, and for Powershell and CMD you can choose between Admin or User. Probably my favorite button!
Fake Restart - I was hanging out with a coworker (C# programmers) on a holiday office party trip and I showed me my latest dopus button which was a complicated VBScript that killed every clutter-y app I could think of, because if you do even a tiny bit of code you know how quickly your system can build up a bunch of crap in the background from endless crashes/errors/you name it. When I told my coworker this he said "oh I just open a notepad file, write some crap in it, then try to reboot, windows will shut down everything un-essential and then you cancel it and you're good to go," I COULD NOT BELIEVE IT, I was agonizing over constantly adding new apps to this endless list and here this damn beautiful genius had come up with the perfect solution. Even when I have 10+ apps with unsaved work that won't close automatically it somehow ALWAYS fixes my annoying symptoms (such a mouse clicks not registering, windows not focusing, etc.) I recommend setting this on a shortcut. The relaunch apps button in the sub menu has to be tweaked to launch your faves, but I recommend keeping the conhost killing line in there if you don't have any super important hidden smd services running!
A fully customized to the nines theme that I have been slowly improving over the past 5 years.
That's enough of a sneak peek! This thing is tried/tested and true, the only way a config gets this good is if someone literally spends hours a week on it for years, I'm sure it won't be everyone's end-all, be-all.
"This is my dopus config, there are many like it, but this one is mine."
My Magnum Dopus.ocb (11.2 MB)