Opus 12 AEbackdrop Images (Flat) v1.0
by Christoph 'AEon' Loewe
Description:
This collection of backdrop images is based on the 64x64 pixels Internal Icon Set (Flat) for Opus 12 by Cris van Minnen.
The 25 images exist in four sizes: 64x64, 128x128, 192x192, and 256x256 pixels. Check the names in the above overview image to ascertain their intended Folder Format usage as Lister backdrops. Note that the actual PNG images have a 10% Opacity to make them very discrete. Personally, I use the 192x192 pixel (3x) versions.
Several of the images simply use the original 64x64 px icon images; many where collaged in a slightly different way; and a very few had to be created from scratch.
Example Lister Preview of these Backdrops: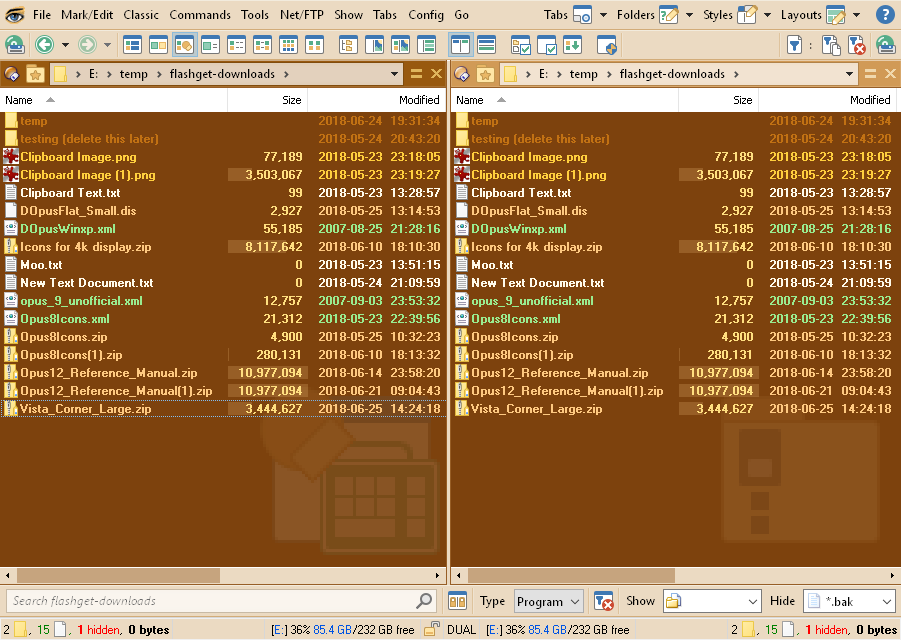 Backdrop Images (Flat) Download:
Installation:
Download the zip file.
Unpack the archive into your
C:\ProgramData\GPSoftware\Directory Opus\Images\
folder.
Note: I recommend installing the images into a folder under Opus, since Opus does not actually seem to cache imported images in its folder system automatically. I.e. if you unpack the images in some random location, install them, but then delete the images from that location, Opus will no longer be able to use/shown these backdrop images.
In Opus, open Settings menu - Preferences.... - Display - Images page.
Click on the Add Image button, or press Alt+I.
Choose all the backdrop images you would like to use in Opus and click the Open button.
Tip: You can filter by image name, e.g. by entering 3x in the filter field, and then multi-selecting the images in one step.
Remember to press Apply in the main Prefs window to update the list of images Opus can use.
Then under Prefs: Folders - Folder Formats page, select an entry:
Select e.g. Content Type Formats - Images and Edit (button) it.
In the Images window, click on the Options tab, check the Image box, choose an image from the Image: drop-down list, i.e. AEbackdrops 3x Images 10%.png, then set Type: to Bottom/Right, and press the OK button.
Again, remember to press Apply in the main Prefs window to update the Content Type Format.
Repeat the editing of the Formats, adding Lister backdrop images, for any other images you may have installed.
Version history:
v1.0 (2018-06-30): 25x4 backdrop images for Opus 12.
Requesting Additional Backdrops:
If you are missing backdrop images, add a post below describing the Format and what image you would like to see for it... I may be able to create it, and expand the list.