I know this is not something major or anything but it's an inconsistency with learned behavior so please bear with me.
On windows 10 opening the recycle bin in a lister lists all files in a "virtual/native" view.
Right clicking any file shows this:


On windows 11 however, in dopus we get this:

On windows 11 in windows explorer we get the same behavior as in dopus on Win 10: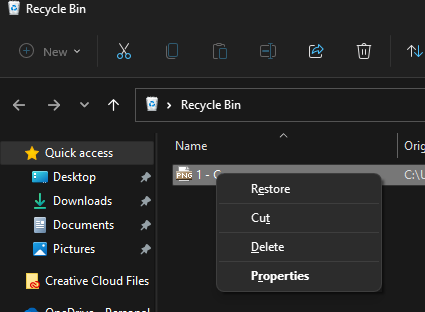 Granted windows explorer cannot open files directly from recycle bin and opens properties as it's the default verb in that case.
Clicking "select" in dopus does the same thing as double clicking - opens the file from its recycled location, in case it's an image - in dopus viewer.
It seems dopus on windows 10 somehow handled the file opening without having a default verb and we got used to it.
On windows 11 however we get the default verb above the "restore" one and it goes against reflex memory. Also it shouldn't even be "select" but "open" instead.
At the very least the "restore" verb should appear above the "select" verb. I'm not saying restore should be made the default or anything.
Thanks for reading this.