I have a toolbar which is laughingly simple by the standards of regulars here (I'm sure) but is amazingly helpful to me and makes my file manager experience a joy. Because my needs are simple, too. It looks like this :


I'd like to add a click to that drop-down list (or a new button), with what follows...
I have a common problem with many files.
They all have a name format that I'd like to change.
Via Google, I found a solution using regular expressions (provided by Einstein's descendent, Leo), as shown in this image :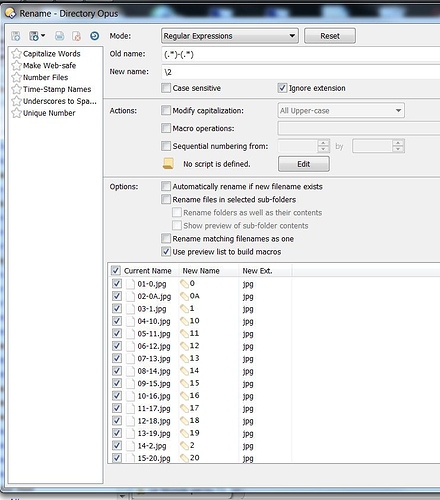 All the target files have the same format : nn-nn OR nn-n
They represent the display sequence of pages.
left-most (incorrect) nn corrupts the right-most nn | n(correct) ones.
To remove the left-side nn, I run the shown regular expression and it works fine.
Done and dusted.
Then I just do another batch rename of page # 1-9 to make them 01-09.
That works fine too.
They are page numbers for digital books ; now, the pages are in the correct order for reading !
Now I have the files ordered correctly in the folder.
But, given that hundreds of current folders are involved, and more will be involved later, I'd like a simple solution to add the 2 regular expression statements without having to type them again for each folder (Directory Opus has spoiled me and made me lazy).
Actually, each folder is an unpacked zip file. I'm sure it would be impossible to start with a zip, perform the file (page number) renames, and end up with a zipped folder, all by clicking on 1 button on my toolbar.
As said, the same conversion is applied to every folder (zip). Just delete the left 2 digits and dash, and add a zero to any single page numbers on the right side.
How can I automate that partly or fully?
Unfortunately, I'm as dumb as a box of rocks.
It took me a day to even get a vague understanding of the above regular expression method.
Please help... but be kind.
I'm not a guru... I'm ancient and, in my youth, it was all about papyrus rolls.