Running an updated version of my Singlerun renamescript causes the "dopus_function" thread to crash. This problem already occured in the orignial script for a longer time so i thought to make its code a little bit cleaner but it didnt help. This script renames images and videos from my camera memory card in a single run. I just tried in the most recent dopus version 12.29.2.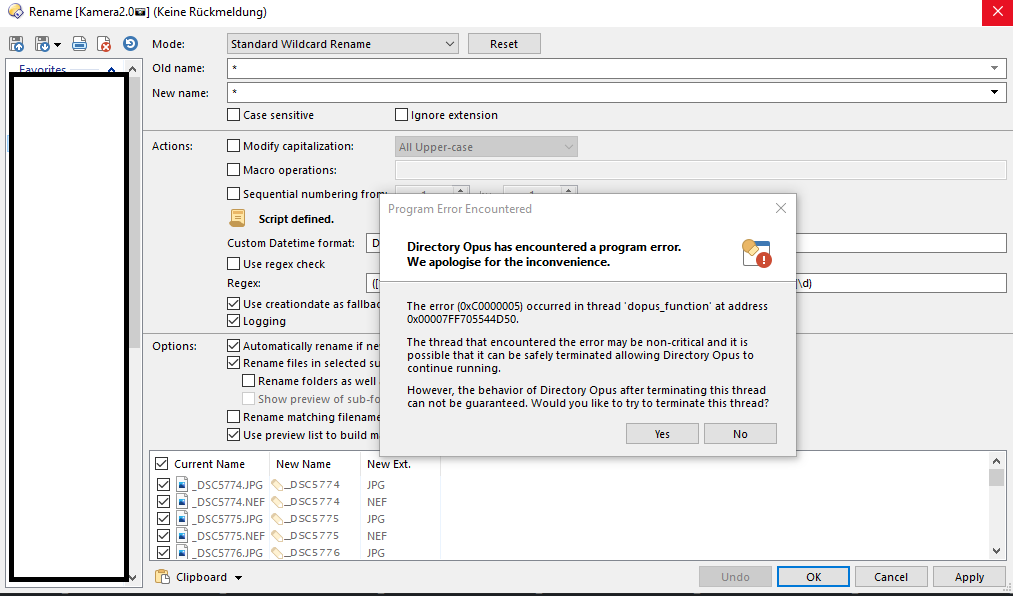 After agreeing to terminate the thread, the progresswindow of the rename function opens up but does nothing (not updating) nor is it closable. I have to exit Dopus completely.


I think this should be the corresponding minidump
dopus.20221103.092552.zip (34.8 KB)
When denying the thread termination this window opens up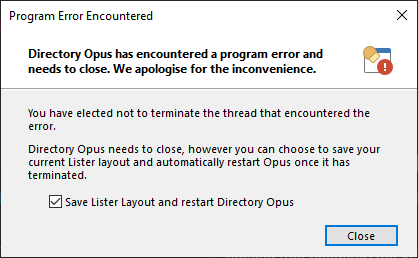 and sometimes after the auto dopus restart it crashes again after opening producing these dumps
dopus.20210225.114813.zip (65.2 KB) and this window.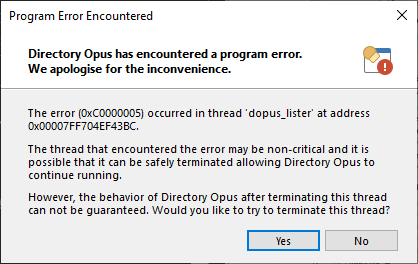 I didnt find any difference of the used file- or storagesystem (sd/cfexpresscard/ramdisk/ssd). I selected jpegs and corresponding raw (nef) files. I was able to make one rename run without crash when logging was disabled but a second run crashed again. I already encountered the behaviour that it sometimes worked and sometimes crashed.
The configuration is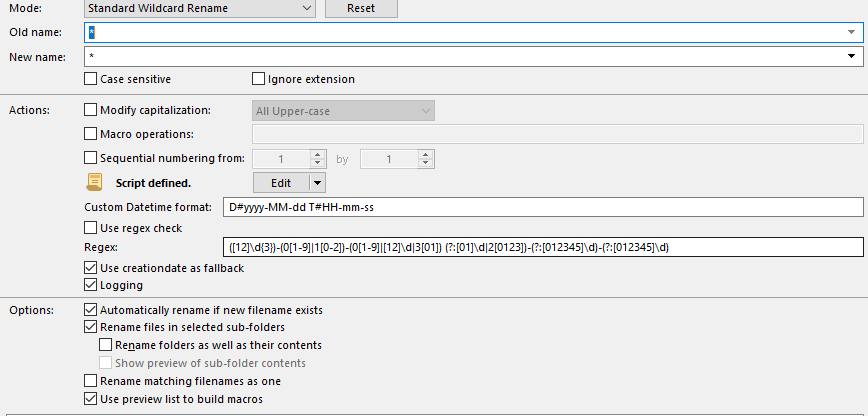 and the code
// v1.0(2021-07-07)

var DefaultDateRegex = /([12]\d{3})-(0[1-9]|1[0-2])-(0[1-9]|[12]\d|3[01]) (?:[01]\d|2[0123])-(?:[012345]\d)-(?:[012345]\d)/;
var DefaultDateFormat = "D#yyyy-MM-dd T#HH-mm-ss";
var Logging = true;

//https://www.gpsoft.com.au/help/opus12/index.html#!Documents/Scripting/OnGetNewName.htm
//https://www.gpsoft.com.au/help/opus12/index.html#!Documents/Scripting/GetNewNameData.htm	
function OnGetNewName(getNewNameData)
{
	try
	{
		Logging = getNewNameData.custom.activatelog;
		var item = getNewNameData.item;		
		if(item.is_dir)
		{
			Log(item + " is directory");
			return true; //dont rename
		}

		if(getNewNameData.custom.userenamepreventionregex && getNewNameData.custom.renamepreventionregex.length > 0) //do check before renaming
		{
			var regex = new RegExp(getNewNameData.custom.renamepreventionregex);
			if(regex.test(item.name)) // if matches my desired name pattern already dont rename
			{
				Log(item + " already matches the desired name pattern, skipping ...");
				return true;//dont rename
			}
		}
		
		var result = DateTakenFromFile(item, getNewNameData.custom.usecreationdateasfallback);
		if(result == null)
		{
			return true; //dont rename
		}

		var format = getNewNameData.custom.format.length > 0 ? getNewNameData.custom.format : DefaultDateFormat;
		var newFileName = result.date.Format(format) + item.ext;
		Log(item + ": Renaming (" + result.metatype + ")\t=> '" + newFileName + "'");
		
		return newFileName; //rename
	}
	catch(e)
	{
		Log(item + " ERROR: " + e, true);
		return true; //dont rename
	}
}

//Extract desired date from metadata based on type
function DateTakenFromFile(file, useFallback)
{
	var currentMeta = file.metadata;
	if(currentMeta == null)	
	{
		if(useFallback)
			return { date : file.create, metatype: "file creation meta" };
		else
		{
			Log(item + ": Cannot find metadata. Skipping...", true);
			return null
		}
	}
	switch(currentMeta)
	{
		case "image":
			return { date : currentMeta.image.datetaken, metatype: "image meta" };
		case "video":
			return { date : currentMeta.video.releasedate, metatype: "video meta" };
		default:
			return { date : file.create, metatype: "file creation meta" };//FallbackDate(file); //two references because meta cann be null or something else than image or video
	}
}

//https://www.gpsoft.com.au/help/opus12/index.html#!Documents/Scripting/GetCustomFieldData.htm
function OnGetCustomFields(getCustomFieldData)
{
	getCustomFieldData.fields.format="D#yyyy-MM-dd T#HH-mm-ss";
 	getCustomFieldData.field_labels('format')='Custom Datetime format';
 	getCustomFieldData.field_tips('format')='Specify the format how the extracted date should be used for the new name of the file.';

	getCustomFieldData.fields.userenamepreventionregex=false;
 	getCustomFieldData.field_labels('userenamepreventionregex')='Use regex check'; //jshint ignore:line
 	getCustomFieldData.field_tips('userenamepreventionregex')='If regex is defined than filename is checked against regex and if matches than no rename will happen'; //jshint ignore:line

	getCustomFieldData.fields.renamepreventionregex="([12]\\d{3})-(0[1-9]|1[0-2])-(0[1-9]|[12]\\d|3[01]) (?:[01]\\d|2[0123])-(?:[012345]\\d)-(?:[012345]\\d)";
 	getCustomFieldData.field_labels('renamepreventionregex')='Regex'; //jshint ignore:line
 	getCustomFieldData.field_tips('renamepreventionregex')='Regex for filename checking before renaming'; //jshint ignore:line

 	getCustomFieldData.fields.usecreationdateasfallback=true;
 	getCustomFieldData.field_labels('usecreationdateasfallback')='Use creationdate as fallback'; //jshint ignore:line
 	getCustomFieldData.field_tips('usecreationdateasfallback')='Use creationdate as fallback date if neither image nor video meta was found'; //jshint ignore:line

	getCustomFieldData.fields.activatelog=true;
 	getCustomFieldData.field_labels('activatelog')='Logging'; //jshint ignore:line
 	getCustomFieldData.field_tips('activatelog')='Log rename script outputs'; //jshint ignore:line
}

function Log(msg, e)
{
	if(Logging)
		DOpus.output(String(msg), e || false);
}