I've noticed something particularly annoying while using Directory Opus that does not occur in Windows 10 File Explorer. In DOpus when I open an *.exe file the GUI text and size oftentimes are "condensed" and/or unproperly scaled for my UHD screen. An example when opening an executable from DOpus:



When I open the same file in Windows Explorer, I get: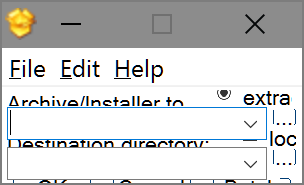 This occurs for a whole bunch of exe files--I'll post another example, one where the interface still remains readable but definitely effected:
DOpus:

Same file in Explorer:

Note that both the pictures above are the same "size" onscreen (I resized them to be equivalent). Also note that for the Explorer version, I get much larger UI elements and even have to stretch the interface further horizontally to view all the info.
Many exe files that I have run turn out much worse than the second one (more like the first, perhaps even worse). Is there a workaround/fix for this?