question 1 see image with FILE TYPES

see image attached, reference text on the LHS under CONTENTS/ INDEX// SEARCH,
eg DRAGANDDROP...DRIVE ETC
how do i change the size of this text. it is impossible small and thus very hard to read
as an aside why is it that the ppl who design these sort of programs make text as this SO DAMN SMALL. is it that they think it is artistically clever or fancy or arty cause frankly it really is a total pain its like ants from5 miles up crawling over a surface.
..
.
question2 see image with he wooden bowls etc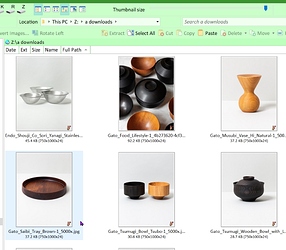 with each image i would like to include the FILE PATH. how can i do this
and now question 3
i got into some weird EDITING THING/ MODE.
what is this and what is it for. some how i got out of it and seem to be reposting my original support request again. i sort of apologise btbh i find your process of sending a help/ support request pretty mysterfying and quite complex. or maybe im just dumb.
or maybe you ppl try to make things too complex by half. thb that's my experience with your program.
example. you name the branch where you install DIRECTORY OPUS in C: drive as GPSoftware
like come on. you call your software DIRECTORY OPUS then you place it in a tree branch called GPSoftware. talk about making it hard to find the install directory when i go lookng for the exe file or wot ever else i might need to find the home on this program.
as i have said before of this program it exhibits an overly complex logic in its design and a lack of out on the street simplicity of the user expectations. additionally there is really an excess of settings and configuration options.
tbh the only reason i use it is its obviously much better that the MICROSOFT EXPLORER which tbh is soooooooo bad that anything marginally better is a god send. but that's no excuse to offer a worms nest of ambiguity and complexity.
anyways that's my take on your efforts................................
with thanks
philip jh
west melbourne