Hello! I've been using Dir Op for a few weeks now, using the trial version wanting to see if it meets my needs. I do love it, but I've found an issue that has cost me a lot of time.
I have tons of sample loops in the form of WAV files. Some of these files were corrupted during a drive crash.
When I saw that Dir Op displayed thumbnails for WAV files, I was elated! What an easy way to find these corrupted files. The corrupted WAV files don't display a waveform as a thumbnail. They show two other thumbnails (I've attached a screenshot).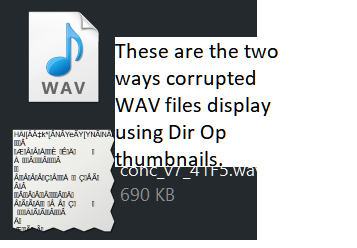 Here's my problem: after weeks of using Dir Op to delete what appeared to be corrupted WAV files, I saw that the larger the WAV file, the slower the thumbnail display. I had a few files that were very large and after a very long wait, the thumbnail wasn't displaying in Dir Op, making them appear to be corrupted files.
Then I hit PLAY. They were NOT corrupted!
So then I went thru some of the files I had previously deleted. No matter the size, some files that didn't display a waveform thumbnail were NOT corrupt.
Ugh! So now I'm restoring MANY wave files that I deleted and going thru them again to find corrupted files.
And now I don't trust Dir Op's waveform thumbnails.
Are there any settings I can edit to fix this issue? Right now, I'm back to hitting PLAY on files that don't display a thumbnail because I'm not trusting Dir Ops thumbnails.
Other than this issue, I do love Dir Op! But this has cost me many hours of work and I'm hoping I can fix it.
Thanks!
Lisa W.