CreationMonth - A script column to sort and group items by their month of creation. ("month of creation" - is that correct english?)
This column is the first to come in two languages. English is the default, german kicks in automatically if you use the german language in DO. This script shall be a test as well, if multilanguage-addins are a good thing to have or will lead to yet unforeseen issues.
Description:
This column is useful, if you're browsing a larger photo collection (flatview maybe), which covers several years and the only pictures you're interested in shall have been taken in any december e.g. If you sort/group on images, the exif-datetaken or exif-shootingtime always takes precedence over the file-creation date.
You can find images related to christmas/winter/summer/automn/spring more easily with this. I'm currently preparing a calendar to print, so finding images fitting a specific season is the task! o)
Demo:
The images below were taken in different years, but they come together in a group "December", because all of them were taken in december.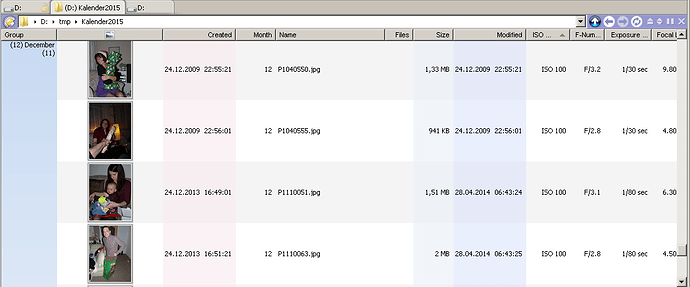 Installation:
To install the column, download the *.js.txt file below and drag it to
Preferences / Toolbars / Scripts
.
After that, right click any listers column header and add the column from the "script" submenu.
Notes:
Sooner or later this column will/should move into the CustomGrouping-Addin:
Make sure to add your rare image file extension to the script configuration "Extensions" item.
Download:
Download the latest file below, then drag it to the list under Preferences / Toolbars / Scripts.