Before you ask, YES, I've unchecked the "Quick access" option until Folder Tree > Contents.
I recently moved from a Win 10 machine to Win 11. When I did this, I exported out my old DO config and imported it on my new PC. Everything seems fine, except... At some point I happened to notice new items in my folder tree (a Home folder, plus additional folders), all duplicated and triplicated from what I already have in my profile folder: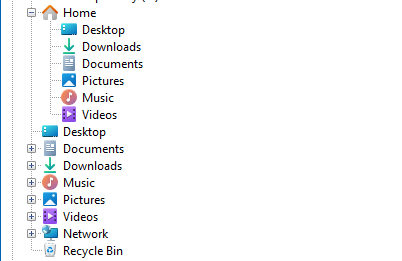 I finally figured out this junk might be something coming from Windows, not Opus. I thought turning off the "Quick access" was enough (it is in Win10), but using Win11 I'm getting all this extra stuff.
Using Explorer, I removed all the pinned items in the Home and it A) made Explorer even more useless than it already is, and B) did not help with removing the Home icon in DO or removing all the triplicated folders underneath it. As I mentioned before, this exact config on a Win10 machine doesn't do this, so I'm assuming this is some Win11 nonsense that DO is inheriting.
Can someone please let me know how I can get rid of "Home", plus the duplicated/triplicated Desktop, Documents, etc. folders that appear under it?