Just started to use Directory Opus.
As I understand, the user could add arbitrary comments to any file and folder. This is actually called "Description" and could be added via menu: click Properties and then Description. Or simply press Ctrl-P.
However, adding and editing comments is not really convenient for me. First of all, I am wondering about the option to use multi-line, instead of single-line comments. XYplorer can do it:
Well, probably it's not possible out of the box, but probably there exists a script for it?
Secondly. Well, let's assume that we cannot use multiline comments and we cannot create custom comment editor via a script. But probably there exists a way to increase the width of single-line text field?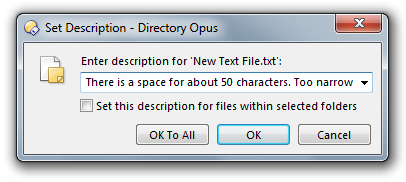 As you see, only 50 characters. Probably it's less-or-more okay for English. But in some languages we have very long words! German. And not only.
Is there a way to fix these issues?