Introduction:
Inspired by AlbatorVs PDF-Toolkit Toolbar: PDF toolbar v2
I created this menu-button, which offers the same PDF rotate/merge/extract/protect/unprotect/organize functionality as the toolbar, but I quickly needed something which works with the latest PDF-Toolkit releases (it seems commandline arguments changed recently) and something that would not require fiddling with well, another toolbar. I overhauled all button texts, prompts and dialogs and tested everything to work as expected.
Download:
Button_PDF-Toolkit.dcf (5.72 KB)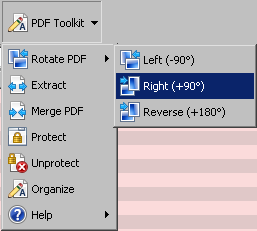 The menu button expects a "/pdftoolkit" DO alias that points to your PDF Toolkit installation folder. Make sure the required executables are contained within a "bin" directory ("/pdftoolkit/bin\pdftk.exe" is the actual path used).
Hint:
I put the PDF Toolkit executables somewhere below "/home" so these are available automatically after a DO configuration restore. I also crushed their size with UPX (upx.sourceforge.net/#downloadupx) to save some space like back in the days o).
PDFToolkit Download:
pdflabs.com/tools/pdftk-the-pdf-toolkit/
Thanks AlbatorV for doing the Toolbar! o)