I spend an awful lot of time in Opus browsing images and then viewing them in the standalone image viewer. Moving through a lister full of images is not practical as the next image I want to view is probably 120 images away from the last. Scrolling through the lister to find it is much quicker.
It struck me there must be a better way to do this that will keep both the image viewer and the lister in view at all times, whether the image is landscape or portrait.
to this end I created a couple of very simple VB macros to automate the whole process. Basically, the main macro decides whether the image to be viewed is portrait or landscape, and then in accordance with those findings it optimises both the lister size and viewer size to make full use of my 3840 x 2160 screen.
(Of course if your screen is of a different size you will have to make some adjustments to the macro, but it really is very simple to do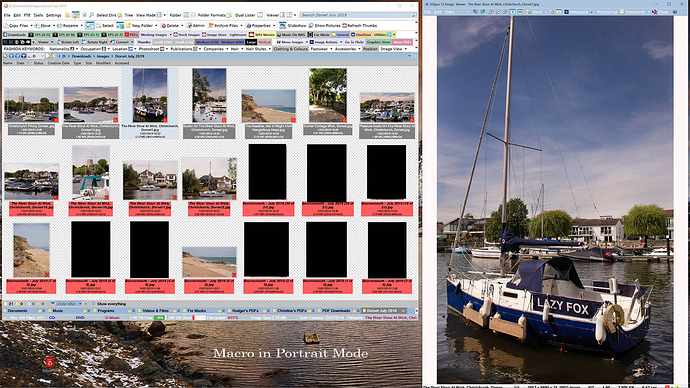 This shows the screen when the macro has detected a portrait orientation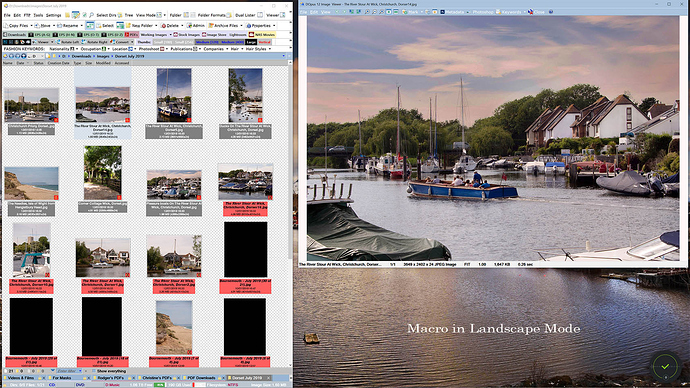 And this shows the screen when the the macro has detected a landscape image.
In both cases the viewer and the lister do not overlap.
I have attached this button
Open In Viewer.dcf (3.9 KB)
to the left double click event in my images group. The result is that If I double click on an image the viewer either opens in landscape or portrait mode in a position of the screen which does not interfere with the use of the lister.
Close.dcf (930 Bytes)
I have added this button the the viewer bar. When I use it to close the viewer, it returns the lister to its previous size and shape on he screen.
I find it very useful.