I want to follow-up on my earlier post regarding my Slow Lister On Initial Load.
It appears that one of my newer toolbars, normally showing on my lister, increases initial lister load time from under 2 seconds to about 15 seconds. If, after removing the toolbar, I restart my system, then interactively add back this toolbar, it takes about 12 seconds before it will show up. If I make this toolbar part of my default, then the initial lister load time (shortly after a system restart) increases to about 15 seconds.
This particular toolbar has 7 buttons, but one of the buttons is built like a flyout menu system containing over 150 program (exe) files , all of which are on my computer. The toolbar looks something like this: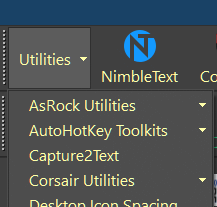 and includes about 20 icons among the 150 menu items.
Can a particular item / image in the toolbar button be causing the issue, or is it just that I have too many items? Is there a recommended toolbar item limit?