Thanks for the information Leo, same issue here. we'll wait and subscribed to the topic.
Looking forward to an update for this.
In my case, I have lost all OneDrive context menu items.
I used to have them all and although I am 99.99999% sure that the issue only occurred after upgrading to 12.25, if I completely uninstall it and then re-install the previous version, the issue is still there!
After upgrading to Windows 11, I used "Free up space" frequently; now it is no longer there in the DOpus context menu and I have to use File Explorer instead.
It's the same for everybody, Look at Leo reply above. I installed the Beta of W11 around July i think, and the onedrive no more in context menu was there since the beginning when i started it.
FYI: screenshots and further version detail of my experience at Windows 10 OneDrive context menu - #12 by gPaq. Note that VLC managed to make its way onto the context menu, other assorted items such as OneDrive unfortunately not...

OneDrive context menu items still missing.
Have you installed the beta?
If they're still missing, make sure Preferences / Miscellaneous / Windows Integration / Hide Windows items on file context menus (shift overrides) is not turned on, as that would hide them.
Yes 12.25 3 Beta is installed and this setting is not turned on. I tried switch it on/off to no avail.
Ah !!!!!!!!!! it's working here but the icons are missing in front of the text, so i was not seeing them !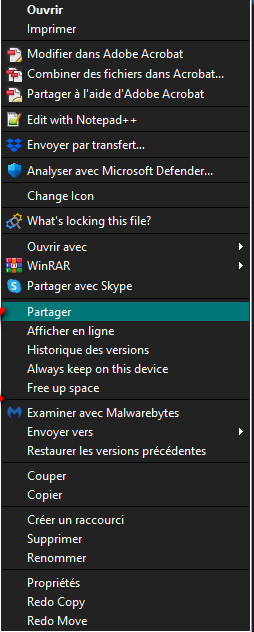 Ditto experience: just installed 12.25.3 Beta, rebooted, made sure the Preference setting is not turned on: no Context items for OneDrive

Maybe I need to set my Directory Opus to French like martyprod

Microsoft OneDrive version 2021 build 21.220.1024.0005 64-bit on Windows 11 Home 21H2 OS build 22000.318, Windows Feature Experience Pack 1000.22000.318.0
Hey, just wanted to let you know, I tried out the patch this morning, worked beautifully, I have full functionality of Onenote back. Ran the install, only had to restart the program, not the PC. Only have Windows 11 on my personal PC, which uses the home edition, haven't tried with sharepoint or enterprise.
Aha, important update, perhaps useful to the programmers... The context menu in the Left pane does NOT show the OneDrive actions
while the context menu selected from an item in the Right pane DOES show OneDrive functionality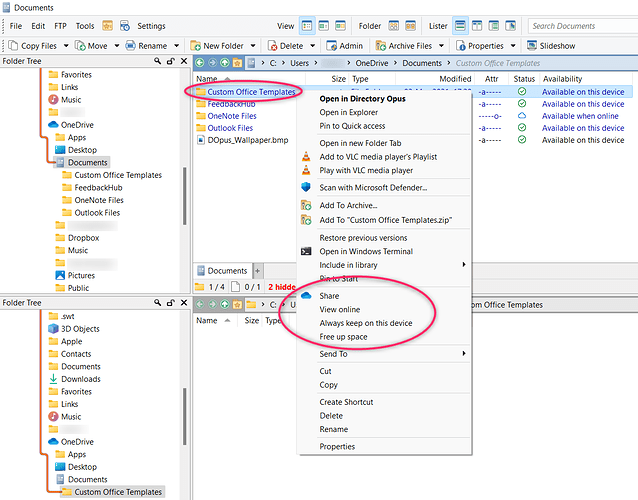 Thanks for that info! Please try the 12.25.4 Beta and see if it works now.
I see other items but not OneDrive Share.
OneDrive context menu items aren't working for me either on Windows 11. They appear in explorer windows. I've tried 12.25, 12.25.3 and 12.25.4, using clean installs and using old profiles where it worked under Windows 10.
I have installed the production version 12.26 and OneDrive context menu is available on both vertical sides of a Directory Opus window. Thanks for that update, this seems to have fixed the issue... perhaps until Windows 12

This version fixed it. Thanks!
Unfortunately it is broken again.